We're super excited to announce that the Sawdust City Fright Fest is teaming up with the Sunset Point Winery in Stevens Point, WI for a special treat on Halloween day! Tuesday, October 31st, 2023 from noon until 7:30, we'll be screening an all day horror movie marathon, curated from Public Domain movies. The movies will be shown on multiple large screen TVs placed on either end of the tasting room, so patrons can continue to enjoy their wine by the bottle, glass, or tasting flight while being treated to a selection of horror goodness. As a bonus treat, patrons will receive free popcorn with the purchase of a beverage.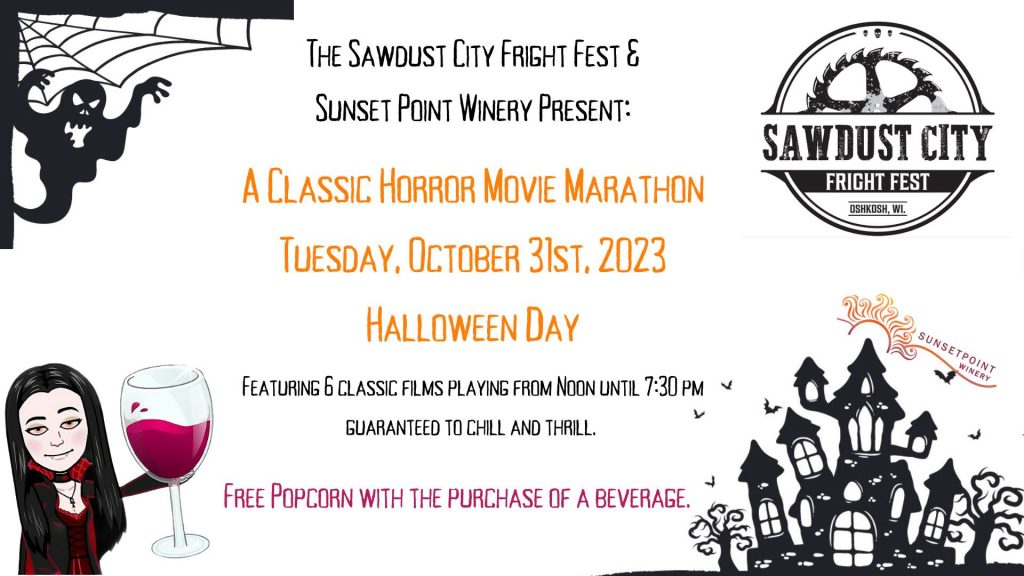 The Crawling Eye (1957) 1 hour 27 minutes
A series of decapitations on a Swiss mountainside appear to be connected to a mysterious radioactive cloud.
Freaks (1932) 64 minutes
A circus' beautiful trapeze artist agrees to marry the leader of side-show performers, but his deformed friends discover she is only marrying him for his inheritance. Content warning: This show contains scenes that some viewers may find disturbing
Attack of the Giant Leeches (1959) 1 hour 2 minutes
A backwoods game warden and a local doctor discover that giant leeches are responsible for disappearances and deaths in a local swamp, but the local police don't believe them.
Manos the Hands of Fate (1966) 1 hour 10 minutes
A family gets lost on the road and stumbles upon a hidden, underground, devil-worshiping cult led by the fearsome Master and his servant Torgo.
Little Shop of Horrors (1960) 1 hour 12 minutes
A clumsy young man nurtures a plant and discovers that it's carnivorous, forcing him to kill to feed it.
Spider Baby or the Maddest Story Ever Told (1967) 1 hour 21 minutes
A caretaker devotes himself to three demented siblings after their father's death. *Content warning: This show contains scenes that some viewers may find disturbing.